What we do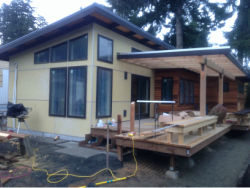 New Construction
We will build your dreams into a home. We will use your existing plans, or create a custom look through collaboration with clients, designers, architects and engineers. We approach building a custom home with commitment to creating your "perfect" space. Our skilled craftsmanship is evident in every detail. Building a home may be a overwhelming idea. Isley Construction is proud to be quality custom home builder with the knowledge to complete anything we set our minds to.. We provide to our customers with extensive design help before construction starts. We know how this process works and how to create a beautiful project collaborating with our clients. Whatever you dream of we can make happen. If your feeling a little lacking in the creative aspect of a project we are more than happy to help.


Kitchen and Bath Remodels


We specialize in kitchen and bath remodels

. The kitchen is the heart of the home. We will help you create that feeling for your home. Bathrooms can be one of the most relaxing spaces in your home. We enjoy striving to meet that standard.

SIPS Panel Construction
This new technique is used for highly efficient, small homes, large homes, remodels and everything in between.

We are currently designing an art studio and a small barn using the SIPS panels. We have created a beautiful green home in the Winslow for amazing clients.

(Click Here)

for more details about SIPS using GreenPods as a design team. We are part of their home building team (as the General Contractor, overseeing entire process, creating, designing, engineering, doing all construction and designing the interior finsihes). We are described as their Bainbridge Island Factory in a few magazine articles. Here's a link to an article about using SIPS to create a Modular Home.

(Click Here)

Commercial Construction

Whether it's a small project or a new building, we are here to help you get your business where you want it to be.


Residential Remodels

Isley Construction has the knowledge and ability to provide you with creative, top of the line remodeling – whatever the size of the job, we love re-creating a space into something you can call your own. We have been doing this for over fifteen years, we got this. So sit back, relax and enjoy the ride.


Decks, Patios and Outdoor Structures

This is a portion of our business we are thrilled to be able to do. Spending time outside creating your oasis is exactly what we enjoy doing. As you can imagine, nothing beats having a view of the water or woods while working hard during the day.


Design Consulting



Erin Isley will help with any of your design questions as well as help you create your dream space. She designed the interior of the SIPS Panel project as well as helped with the finishes on most of our projects. She has an eye for finishes, color palettes and a fresh take on things. With the help from Erin, Benson and all of our Isley Construction Team, we will create the perfect space.